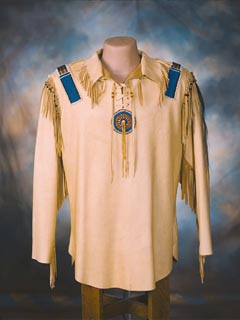 ©2004 K. C. Miles Leatherworks
Click here to enlarge image
Note: Shown above with optional beadwork and fringed collar
A simple pullover buckskin shirt with an oversized fringed collar. Features fringed shoulders and fringe down the sleeves.
Colors:

Gold (shown), Cream, Saddle, Palomino and Mahogany

Note: Colors subject to availability

Wind River Shirt
Sizes 40, 42, 44, 46

$375.00

Sizes 48, 50

$400.00




Sizes 52, 54

$425.00

Long tall sizes

Add $30.00

XX Long tall sizes

Add $45.00

Note:
Prices above are for the basic shirt and do not include beadwork. Beadwork is available on a custom basis only.
Click here for measuring/order form
Click here for order information