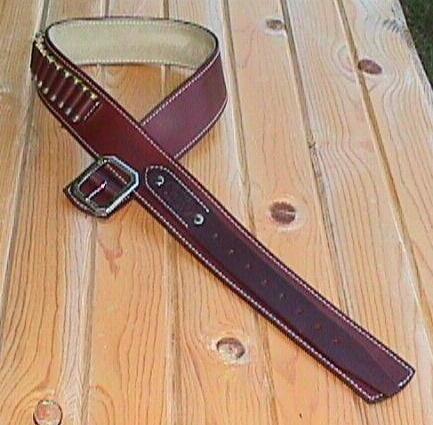 ©2004 K. C. Miles Leatherworks
Matching cartridge belt
shown elkskin lined
Click here to enlarge image
Our cartridge belts are of single thickness standard construction using 9-10 oz. top grain cowhide. These belts are geared toward the fast growing sport of cowboy action shooting and have 24 loops standard (pistol cartridges only). Shot shell loops may be sewn to the belt itself for those who want them (see order form for information). Hardware is available in solid brass or nickel plated, using an authentic California cut-corner buckle. Billits are sewn and riveted for a lifetime of use.
Over the years we have experimented with a number of different linings for our belts. We believe that elk skin is the undisputed champ. Elk is not only tough and durable, but soft and supple. We offer this to you as an option as it will make your belt extremely comfortable for those all day shoots or time spent afield.
2-1/2" width, single thickness

$145.00

Available in calibers

45 long colt, 45 S & W, 44-40 WCF, 44 special, 41 magnum, 38-40 WCF, 38 special, 357 magnum, 25-20 WCF, (other calibers available on request)
Cartridge belt sizing information:

Give your actual waist measurement by using a cloth seamstress tape measure and measuring around your waist over the top of the clothes you will be wearing. Or measure a pants belt that fits from the outer edge of the buckle to the most used hole (as shown in drawing).
We produce the cartridge belt to your dimensions and will not be responsible for your mismeasurements.
Click here for measuring/order information