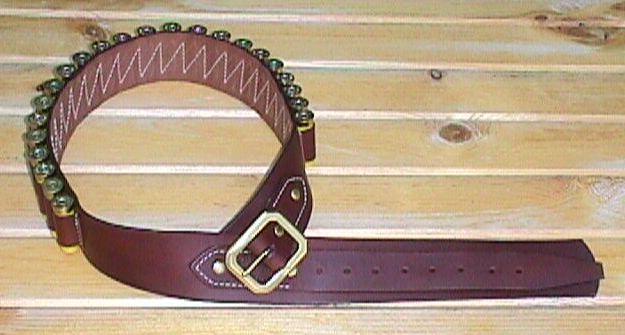 ©2004 K. C. Miles Leatherworks
Click here to enlarge image
Shown unlined
Same basic features as our pistol cartridge belts except the loop material is increased to 1-1/2" to keep a better grip on shotgun shells. Hunters will especially like these belts for bird hunting or at the range shooting clays. The belt holds 25 shot shells as standard.
2-1/2" width, single thickness

$210.00

Available in gauges
12, 16, 20 and 410
Cartridge belt sizing information:

Give your actual waist measurement by using a cloth seamstress tape measure and measuring around your waist over the top of the clothes you will be wearing. Or measure a pants belt that fits from the outer edge of the buckle to the most used hole (as shown in drawing).
We produce the cartridge belt to your dimensions and will not be responsible for your mismeasurements.
Click here for measuring/order information